There are many garden shed designs from which to choose when you decide you need a garden or outdoor storage shed.
If your garden is in need of a little extra touch, then the various garden shed designs may help spruce it up. There are a wide variety of garden shed designs offering many choices for you including lean to, saltbox and gambrel.
The most important decision you'll have to make is which one will meet your requirements and will still fit in the area where you plan to have it. Other choices include how many windows you want, what style of roof and location- will it be seen by passers by or will it be out of sight to the public? Check out plastic storage sheds and plastic garden shed also for a comparison..
Here are some very popular choices for a range of budgets..
Lean To Shed
Lean to sheds are the easiest to construct and are very economical. Depending on where you want to put it, it can be as simple as using old leftover wood or even pallets.  They range in size from small, for simple uses like keeping firewood dry, to large, for providing shelter for your animals.
Saltbox shed
If you're looking for something more trendy and something with style, the saltbox shed might be for you.
The saltbox shed rivals the 1600s architecture of New England and its colonial style. The roof of the saltbox shed is uneven, which gives it more character and moves away from the simple square look of a typical shed. Oftentimes it's referred to as the Queen Anne style.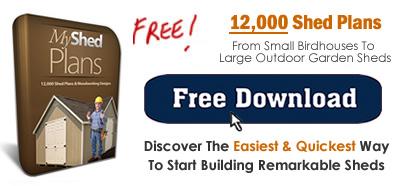 This architecture came about when homeowners were trying to avoid extra taxes imposed by Queen Anne for structures with more than 1 story.
Gambrel Type Shed
The gambrel style shed provides extra space for storage in it's roof space. It has a high roof sloping on each side. It's fashioned after the Dutch colonial introduction of the barn style to America. The gambrel construction is similar to the Mansard roof, which has one side more steep than the other, with a shallower roof on the opposite side.
There are many options for your garden shed style. If you plan on erecting it yourself, you'll need a good plan to follow. You'll find a wide range of plans available for you to use.
However a more convenient solution would be a prefabricated shed kit, something in metal or plastic, which you assemble yourself. And the range of prefabricated options is even wider still with different sizes and shapes to fit into even the most challenging space.